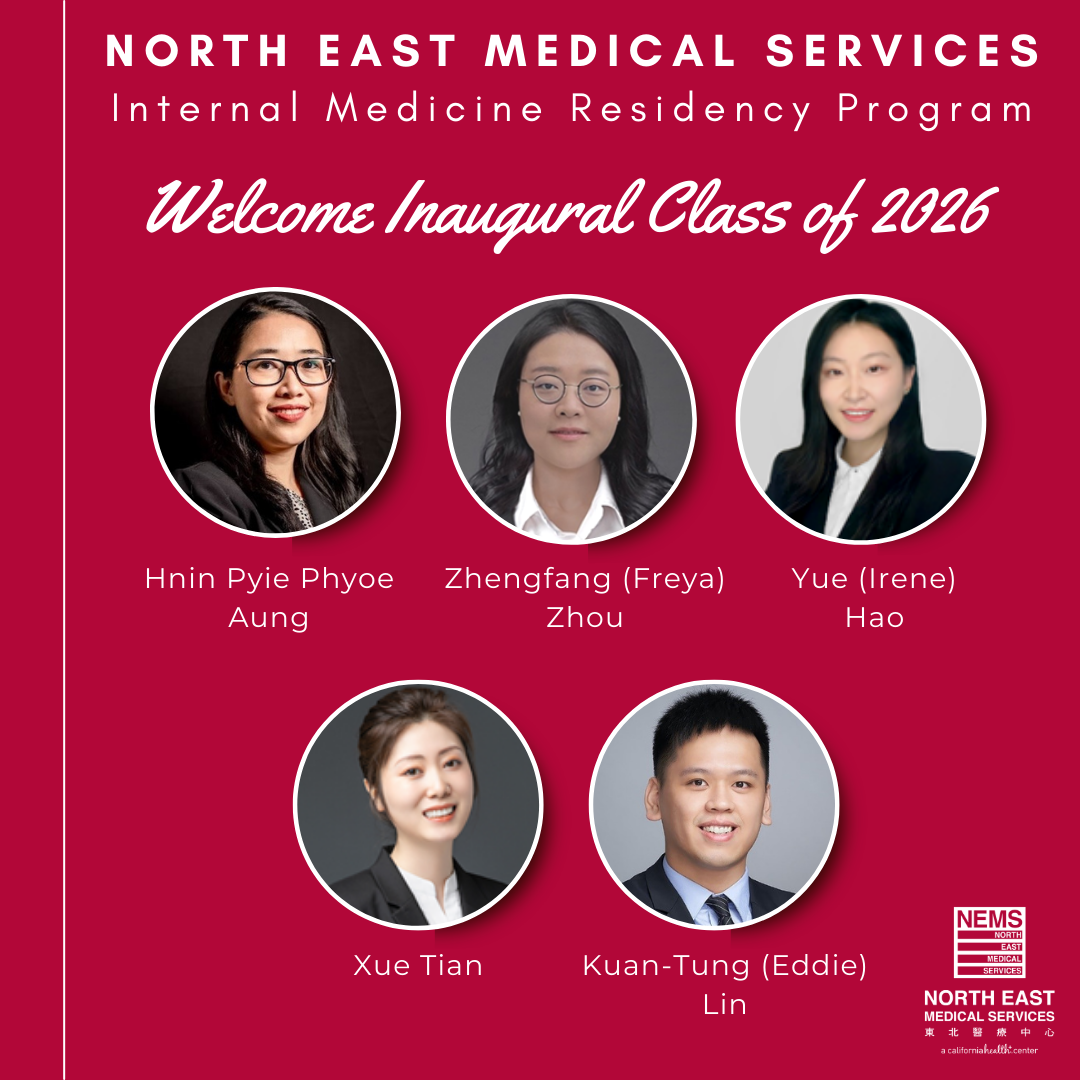 Welcome Class of 2026!
North East Medical Services (NEMS) is excited to announce the inaugural Class of 2026 to our Internal Medicine Residency Program, who matched with us on Match Day 2023! Five physicians hailing from around the world will be joining NEMS and Seton Medical Center this summer to start their internal medicine residency journey over the next three years. These residents are coming from New York, Florida and California, and can speak various languages including Mandarin, Cantonese, and Burmese. Congratulations and Welcome!
A Message From
Our Program Director
Welcome to North East Medical Services (NEMS) and thank you for your interest in our Internal Medicine Residency Program. We are a newly accredited program by ACGME with emphasis on primary care. We are a community-based program with ambulatory training sites in San Francisco. Our partnering hospital, AHMC Seton Medical Center, is located in close proximity to our clinics in neighboring Daly City. Read more…
Kenneth Tai, MD
Internal Medicine Residency Program Director
Vice President and Chief Health Officer
North East Medical Services
Introducing Our Residency Program
See what makes the new NEMS Internal Medicine Residency Program unique and special.
Curriculum and Rotations
Our three-year Internal Medicine Residency Program uses a 3+1 schedule format, which allows for a greater emphasis on primary care medicine. Residents will have continuity clinic at a NEMS clinic in San Francisco and complete clinical rotations at Seton Medical Center, NEMS, and NEMS PACE Center.
Salary & Benefits
In addition to the vibrant backdrop of the San Francisco Bay Area, NEMS offers a competitive salary and benefits package to support residents during their training.
Frequently Asked Questions
How can I apply for the program?
Applicants can apply through ERAS and register for NRMP (NRMP Code: 2349140M0).
When is the program application cutoff date?
Our application deadline is December 15, 2023. We will be inviting candidates for interviews starting in November 2023 to January 2024. Please submit applications in ERAS as soon as possible, as interviews will be granted on a first-come, first-served basis.
Is the program accepting foreign medical graduates?
Yes, we will be accepting foreign medical graduates. Foreign medical graduates should be fully ECFMG certified.
Does the program have criteria for USMLE, Step 1 / Step 2 scores, clinical experience, or letters of recommendation?
USMLE and COMLEX scores are now based on Pass/Fail. We require "Pass" scores for applicants.
NEMS Internal Medicine Residency Program (NEMS IMRP) requires U.S. Clinical Experience
Number of Letter of Recommendations: 3
We will be using holistic review with emphasis on community service and linguistic competency.
What type(s) of visa will the program sponsor?
NEMS IMRP will be sponsoring a limited number of J1 and H1b visas.
Contact the Program
To learn more about the Internal Medicine Residency Program at NEMS, email us at [email protected]